Webstart step by step instructions
Jump to navigation
Jump to search
Step by step instructions on what to expect when starting GenomeView for the first time.
Prerequisite: Java 6 Make sure you have Java 6 or more recent installed. You can test which version you have installed at http://javatester.org
Click the orange 'launch' button

Step 2: Select Open With Java Web Start
Once you click the orange launch button, you will likely get a pop-up that asks you with which program you want to open the link.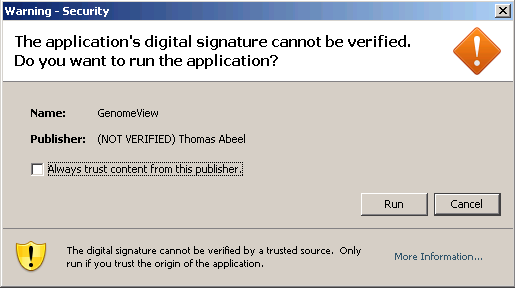 Agree with what the pop-up windows ask. If you're unsure, detailed instructions for various browsers are available.
Step 3: Waiting for GenomeView to start
Once you have approved our digital signature, GenomeView will start loading, you will see the following screens without any further input.
Step 4: Success!
You have now successfully started GenomeView!